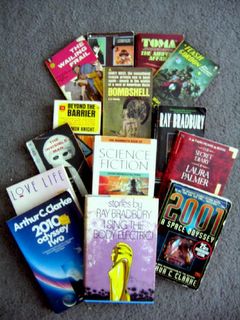 Check out all my new books!

Yesterday afternoon we went to El Mercado and had a few margaritas, and then went to the
Literacy Austin Book Sale
and bought a bunch of books. My margarita head really wanted to buy sci-fi and pulpy novels, as well as (apparantly) a copy of the Westing Game and Laura Palmer's Secret Diary. I only spent $20 bucks, though, and it went to a good cause, so I'm not having any book buying guilt. I am resolving, however, to weed out some of the books that I have. I don't think I'll sell anything I haven't read yet, but I am thinking of getting rid of things I've read that Josh doesn't want to read and that didn't blow me away. My problem, I just love books. Like the physical book itself. Even if the book was bad, I still want to keep it. And buy more. And I'm out of room, so some decisions will have to be made. Either that or I'll just kick Josh out of the bedroom and fill his half of the bed with books....