A pictorial journey through Baton Rouge:

This is the old capitol building. I would know more about it if I paid attention during our reception there instead of mowing down on the free food and partaking of the free beer. It appears be very old, and they are doing some kind of restoration work to the outside. In addition to free food and drink, I also spent quite a bit of time in conversation with various cohorts, including these two:

My friends Traci and Erin, posing just in front of the capitol.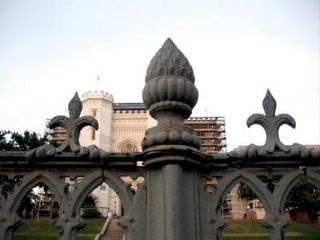 There were fleur de lys everywhere in Baton Rouge, including on the gate surrounding the old capitol building.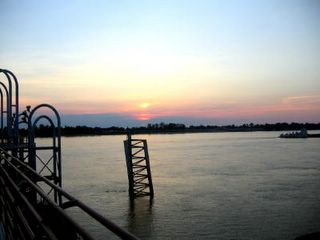 Ah yes, the Mississippi River. Spell it with me folks, and feel the satisfaction.

A blowsy and strange self-portrait by the river.

One afternoon I snuck off by myself, got an awesome crawfish po' boy at Poor Boy Lloyds, and took the free trolley around the downtown area. I got off at the current state capitol, which is very impressive. Almost as neat as the Nebraska State Capitol, which I still think is the coolest one I've ever seen. So many capitol buildings look the same. It's nice to see someone doing something different.

On the capitol grounds, there are all kinds of nice fountains, gardens and trees, including this impressive guy covered with Spanish Moss. Very Louisiana-looking.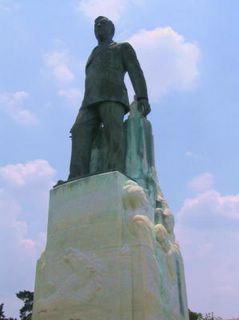 Governor Huey P. Long is ever present in Baton Rouge. Here is his statue in front of the capitol.
And we'll end with some pictures from the fourth floor garden terrace of the LSU art center, at which museum gift shop we indulged in some fancy stationary purchases.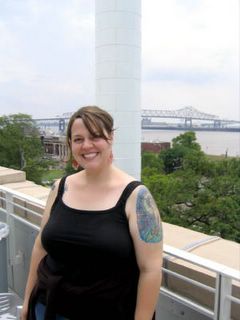 Here's Traci….

And here's me….
After these cheery pictures, we went to the Baton Rouge airport, where we were delayed for a couple hours due to storms in Dallas. When we finally took off for Dallas, it was storming in Baton Rouge, and we had a very shaky ride to the DFW airport. Once there, I had missed my original flight to Austin, but was able to hustle to the gate for another flight and made it home just two hours late. And very hungry. Luckily Josh was able to appease me with leftover pizza and some PBR.